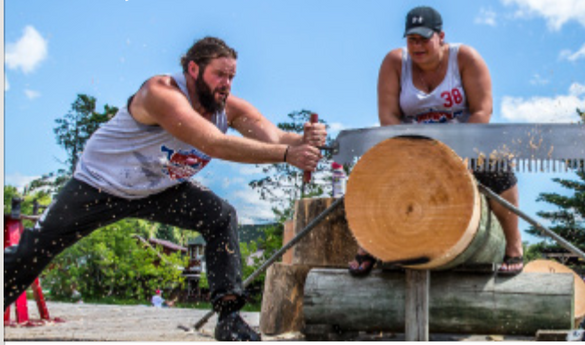 40th Anniversary of Noah's Ark Waterpark, Wisconsin Dells
The country's largest outdoor waterpark turns the big 4-0 this summer, with an anniversary party planned for Memorial Day weekend. Ride their newest sensation, Raja, the world's largest king cobra-themed slide. The Wisconsin Dells is the Waterpark Capital of the World, with more waterparks to experience than any other destination.
50th Anniversary of EAA AirVenture, Oshkosh
The greatest airshow in the world is hosting its 50th anniversary in Oshkosh July 22-28. More than 600,000 people from 80 different countries and 10,000 aircraft will descend on Oshkosh during the week-long event that features exhibitors, forums, workshops, presentations, aircraft flights, air shows, concerts and more. During EAA AirVenture week, Oshkosh is the busiest airport in the world with more take-offs and landings than any other airport in the world.
50th Anniversary for Wisconsin Maritime Museum, Manitowoc
This Smithsonian Affiliated museum is the largest maritime museum on the Great Lakes and features the nation's most fully restored WWII submarine, the USS Cobia (the Cobia marks its 75th this year). The museum gives visitors a chance to time-travel back to the 19th century when shipbuilding dominated the community.
60th Year for Circus World, Baraboo
Circus World rose to fame in the 1960s, and this season's Big Top performances will pay tribute to that decade of mod fashions and classic rock with a theme of "A Summer of Luv Under the Big Top." While at Circus World, the original winter quarters of the Ringling Bros. Circus, be sure to visit the world's largest collection of restored antique circus wagons, circus costumes and posters.
60th Annual Lumberjack World Championship, Hayward
The thunder of chainsaws, the quick footing of the birlers, the brute strength of sawyers, and the agility of pole climbers are all on display at this world championship event. On Aug. 1-3, the world's best professional lumberjacks and lumberjills will converge in Hayward to compete in sawing, chopping, logrolling, speed climbing, boom running, axe throwing and more.
70th Annual Musky Festival, Hayward
Fishing enthusiasts will want to mark their calendars for the 70th anniversary of Musky Festival, June 21-23. This Up North classic includes the crowning of the Musky Festival Queen, 5K run/walk and 10K run as well as a Minnow Run for those 12 and younger, catch and release fishing contest, fishing photo contest, and street dances on Friday and Saturday nights. The weekend's festivities wrap up with the Grand Parade staged on the city's historic Main Street on Sunday.
150th for Door County Lighthouses
Both the Cana Island Lighthouse and the Baileys Harbor Range Lights turn 150 this year. Climb the 97 steps of the Cana Island Lighthouse's spiral staircase and be rewarded with a sweeping view of Lake Michigan and the Door County peninsula. Open May through October. The Bailey's Harbor Range Lights, two lighthouses though modest in design played a critical role in keeping ships off the treacherous reefs at the entrance to Bailey's Harbor. Door County has more lighthouses than any other county in America. Visit eleven lighthouses during Door County's Lighthouse Festival – June 709, 2019.
Lodging:
Dorr Hotel in Sister Bay – Door County. Sister Bay is breaking ground on a new Nordic-inspired hotel. The four story, 46 room Dorr Hotel will offer views across Lake Michigan's Green Bay, and 11 of the first-floor rooms will include private patios with access paths leading down to the water.
The Stella Hotel & Ballroom in Kenosha is accepting reservations starting April 1, 2019. A century-old Kenosha landmark that began its life as the Kenosha Elks Club, the Stella Hotel & Ballroom will come alive once again after nearly two years of meticulous restoration. The Stella Hotel & Ballroom is also a distinctive dining destination with its 1844 Table & Mash Restaurant and Crow's Nest rooftop bar. The Stella features 7,600 square feet of meeting space including a two-story ballroom for 300 people.
Potawatomi Hotel & Casino in Milwaukee is constructing an $80 million second tower, housing 119 rooms and suites, bringing the hotel's total room number to 500. The 180,000-square-foot addition will also feature a spa and additional meeting space.
Saint Kate The Arts Hotel in Milwaukee. In the spring of 2019, the InterContinental Hotel Milwaukee will transform into Saint Kate The Arts Hotel, the city's first independent arts hotel in the heart of Downtown Milwaukee. The renovation will result in 219 art-inspired guestrooms, 11 event spaces, 13,000 square feet of meeting space, three restaurants and numerous bars and lounges. The hotel will also boast a theater, gallery space, rotating exhibitions, screenings, workshops and a working Artist-in-Residence space.
Culinary:
The Garver Feed Mill, located on Madison's near East Side, is expected to open summer 2019. This multi-faceted destination will feature artisans, producers, and retailers offering visitors everything from coffee to gardening, catering to kombucha, providing visitors with the opportunity to taste the best of Madison. The historic Mill is sure to become a foodie destination for locals and out-of-towners alike, benefitting from the close proximity and future programming with Olbrich Botanical Gardens and Olbrich Park.
Apis Hotel & Restaurant in Kenosha will occupy a grand historic building with a fresh, mid-century modern flair. Setting the hotel apart are six expansive boutique-style rooms offering features such as loft areas and views of the harbor. The Apis Restaurant will specialize in creative small plates and seasonal ingredients, as well as immersive dining experiences in a chef's table-like setting. A rooftop bar with views of Downtown and Lake Michigan top off this distinguished property.
Crossroads Collective, on the Milwaukee's east side, opened late 2018 with eight restaurant stalls, a bar, and a hidden speakeasy. Milwaukee will soon have two more food halls, somewhat similar to the Milwaukee Public Market.
3rd Street Market Hall another food hall in Milwaukee will open in the fall of 2019 and will reside in the former Grand Avenue Mall in the heart of downtown. It will feature 20 local restaurant vendors, a beer hall, table games, and plenty of space for hanging out.
Good City Brewing opened the doors to its production facility and taproom in January 2019 as the first tenant of the Milwaukee Bucks entertainment block. The official grand opening event is scheduled for Feb. 22, 2019.
Sports:
Ryder Cup – Prepping for 2020 –Whistling Straits – Kohler, Wisconsin – September 22-27, 2020
The Ryder Cup has become one of the world's greatest sporting events. Every two years, 24 of the best players from Europe and the United States go head-to-head in match play competition. Drama, tension, incredible golf, camaraderie and sportsmanship are served in equal measure, captivating an audience of millions around the world. Whistling Straits
Open, rugged and windswept terrain defines the links-style Straits course sculpted along two miles of Lake Michigan shoreline. A masterpiece in the world of golf created by Pete Dye, who sculpted the Straits course to reflect those in Ireland and Scotland. Open, rugged and windswept terrain defines the Straits Course. With meandering streams, stone bridges, rolling greens, and grass topped dunes, Pete Dye explains this course as a "once in a lifetime" achievement in golf course design. Whistling Straits has previously hosted the 2004, 2010 and 2015 PGA Championships.
U.S. Open Qualifying Round, May 8, Wisconsin Dells
Wild Rock Golf Club has been selected by the United States Golf Association to host a qualifying round for the 2019 U.S. Open. This magnificent course, built around and through a former quarry, was designed by the same duo who created the site of last year's U.S. Open, Erin Hills near Milwaukee.
Ride Across Wisconsin, Aug.16 -18, La Crosse
The 5th Annual Ride Across Wisconsin, Wisconsin's signature bicycle ride, announces a new route for 2019. After four years riding the southern route across the state, the ride now starts in La Crosse
with one- and two-day options. This ride (not a race) offers scenic views across some of the most beautiful back roads the state has to offer.
Signature Events:
The TALL SHIPS CHALLENGE travels through the Great Lakes every three years. In late July and early August, the Challenge will make its way to Lake Michigan's Wisconsin ports in Green Bay and Kenosha. Festivals in host ports offer an opportunity for visitors to explore the majestic vessels from stern to bow. Specific ships will offer sail-away tours on Lake Michigan. Live entertainment, food and beverage vendors, and children's activities will add to the festivities.
What's new in Milwaukee – Wisconsin's Largest City:
A new gateway to the lakefront. New construction, hotel conversions, foodie hubs: things are changing in Milwaukee - fast! It's an exciting time in the city, and this new growth promises even better things to come over the next five years.
The Fiserv Forum - The new NBA arena and entertainment complex is transforming downtown Milwaukee. Fiserv Forum is much more than just the new home for the Milwaukee Bucks basketball. Designed to reflect the heritage, history and personality of Milwaukee while actively projecting progress, accessibility and a renewed sense of community, the state of the art, 714,000 square foot arena is the hub of entertainment in Wisconsin and the engine that drives growth in downtown Milwaukee. Combining entertainment, residential and commercial spaces, the new district will transform Milwaukee and serve as a catalyst for driving development throughout the region.
The Hopp – Milwaukee's new downtown streetcar system. Milwaukee's new streetcar is ready to take you where you need to be downtown – and thanks to sponsor Potawatomi Hotel & Casino, everyone rides free during this first year of service! Take advantage of this convenient new transportation option as you travel throughout downtown Milwaukee.
Milwaukee County Zoo's new exhibit, Adventure Africa, will reopen in May 2019 after a major expansion. This exhibit, which will house the elephants as well as other African animals, has reimagined 25 percent of the Zoo's footprint, making it the largest project since the Zoo was completed in the early 1960s.