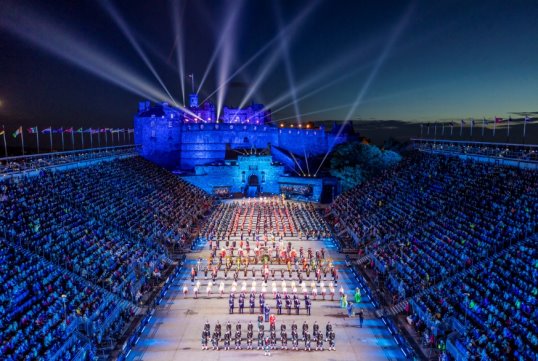 The Royal Edinburgh Military Tattoo (2022) at Edinburgh Castle © VisitScotland / Kenny Lam. For more images of Scotland visit our VisitScotland Toolkit.
Throughout the year, the calendar is filled with events of all shapes and sizes across Scotland. These events are a great way to get to know local communities, traditions and be immersed in Scottish culture. A warm and friendly welcome, combined with breath-taking backdrops, make for the perfect atmosphere on the world's perfect stage… Scotland!
Scotland becomes a world stage…
Scotland is home to the world's largest international performing arts festival and throughout the summer months, the streets of Edinburgh become a stage for the world as artists and performers come together across seven major festivals.
Beyond the capital, visitors can head to all corners of Scotland to discover events and festivals showcasing the best of local, national and international talent.
Set in Orkney's incredible landscape in the light nights of midsummer, the St Magnus International Festival brings music, theatre, poetry, multi-sensory experiences and more to the Orkney Isles. In its 47th year, the festival will feature the world premiere of David McNeish's play Thora, the story of Orkney native St. Magnus' mother about whom little is known. The Festival spans venues from Pier Arts Centre to St Magnus Cathedral, stunning churches nestled scenically on the coast, Stromness Town Hall, The Writing Room at Kirkwall Hotel and the Pickaquoy Centre and is a great way to discover the cultural life of the islands.
A music festival founded in 2004, East Neuk Festival takes place in Crail, Anstruther, Kilrenny, St Monans and St Andrews in Fife. The Festival brings together performers from around the world in venues that are quirky and atmospheric from churches to caves through to an ex-nuclear bunker and the pretty streets of the picturesque East Neuk of Fife.
This multi-award-winning music festival takes place on the stunning Isle of Lewis in the Outer Hebrides and is a celebration of Gaelic culture and language. Promoting the island's heritage, history and traditional music, the festival takes place at a purpose-built venue featuring three stages on the Lews Castle Green which offers free standing concerts for up to 5000 people.
Discover more music festivals in Scotland here: 20 Best Scottish Music Festivals | VisitScotland
A breath of fresh air…
Scotland's landscapes are the ideal setting for a festival and there are plenty of events throughout the year inspiring visitors and locals alike to get out in the great outdoors and take it all in.
With walks ranging from gentle strolls to challenging endurance events, alongside activities that have in the past included cycling, kayaking, wildlife watching, bushcraft and more, the Moray Walking and Outdoor Festival is a great way to discover the region's natural, historical and cultural landscape. From the foothills of The Cairngorms National Park, the largest National Park in the UK, to the glittering coastline, the region's spellbinding scenery provides the perfect backdrop for adventure and exploration on Scotland's long summer days.
The Cowal Gathering held in Dunoon, Argyll, is the largest Highland Games in the world. Each year, 23,000 visitors head to the events to soak up the unique friendly atmosphere and get a taste of Scottish culture surrounded by world-class pipers, dancers and athletes competing in traditional Highland sports. A fantastic family event, every Highland Games has a unique character and tradition.
Find out more about Highland Games across Scotland: Highland Games in Scotland - The Best Events | VisitScotland
This thrilling festival is the longest-running professional windsurfing event in the world and there's plenty for spectators to do too. Visitors inspired by the professionals on the waves can try surfing, paddle boarding or windsurfing and then soak up the amazing atmosphere of the brilliant nightlife.
For a full programme of events on Scotland's islands visit: 19 Must-Do Festivals on Scotland's Islands | VisitScotland
Have a taste of Scotland…
A festival round-up in Scotland wouldn't be complete without showcasing Scotland's natural larder and mouth-watering delicacies.  In the coming months, there are plenty of opportunities to celebrate some of the best, most sought after natural produce along Scotland's spectacular coastlines and lush, fertile lands.
Foraging Fortnight offers a wide range of events from coastal foraging to herbal wellness, from wild food treks focusing on plants, seaweed and fungi to topical talks, encouraging visitors to enjoy Scotland's gift of nature responsibly.
Set in the spectacular surroundings of Tir na nOg on the edge of Loch Lomond & The Trossachs National Park, a celebration of wild food and foraging in Scotland awaits. The festival encourages people of all ages to step outdoors and learn about local wild food. With scrumptious feasts, wild cocktail making, forest school, talks and demos, workshops, live music, a marketplace, and foraging walks on the beautiful woodland trails packed with wild food surprises around every corner, there really is something for everyone to get their teeth into!
Whether an oyster connoisseur or just bivalve curious, the three-day celebration of Stranraer's unique coastal heritage, culture, people and its wealth of local produce makes for a brilliant foodie day out.  Visitors can try and buy delicious food and drink from talented producers across the region in the bustling artisan market, there's free entertainment for the kids, live music, watersports activities, fireworks display, and Scotland's most skilled shuckers compete in the Scottish Oyster Shucking competition!
Find out more about Scottish food and drinks festivals here: Food and Drink Events in Scotland | VisitScotland
Scotland has tales to tell…
Scotland has a rich heritage of stories and storytelling, these include local tales, oral traditions, great stories told in books or on screen. Every community has its own tales to tell and heading to a festival is a great way to discover more.
Building on last year's successful return show, Voices, the 2023 performance with the show theme 'Stories' will take audiences on a spectacular journey through music, dance, poetry, spoken word, imagery, light and projection – at the unique setting of Edinburgh Castle where spectators will enjoy the legendary sound of the Massed Pipes and Drums alongside a host of international acts by a cast of over 800 UK and international performers from Norway, The United States, Australia, Trinidad and Tobago, and Switzerland. There are few such moving festival moments, a fact to which any of the over 220,000 people who experience it live in any normal year can attest – not to mention the further 100 million who watch television broadcasts of the event.
After a short post summer break, audiences can dive back into festival fun at Wigtown in Dumfries and Galloway, with the Wigtown Book Festival. 25 years since the town was designated as Scotland's National Book Town, this year marks the 25th edition of the Wigtown Book Festival, a ten-day literary celebration featuring a vast array of book events, music, theatre and more.
Shetland Wool Week is a world-renowned celebration of Britain's most northerly native sheep, the Shetland textile industry and the rural farming community on these islands. Throughout the week, there will be an extensive range of exhibitions, classes and events, which will cover many different subjects, including weaving, spinning, dyeing, Fair Isle and lace knitting as well as many other fascinating subject areas. Events take place from the most southern tip of Shetland, right up to the most northerly island of Unst, famous for its beautiful lacework, with many locations in between.
Natural wonder…