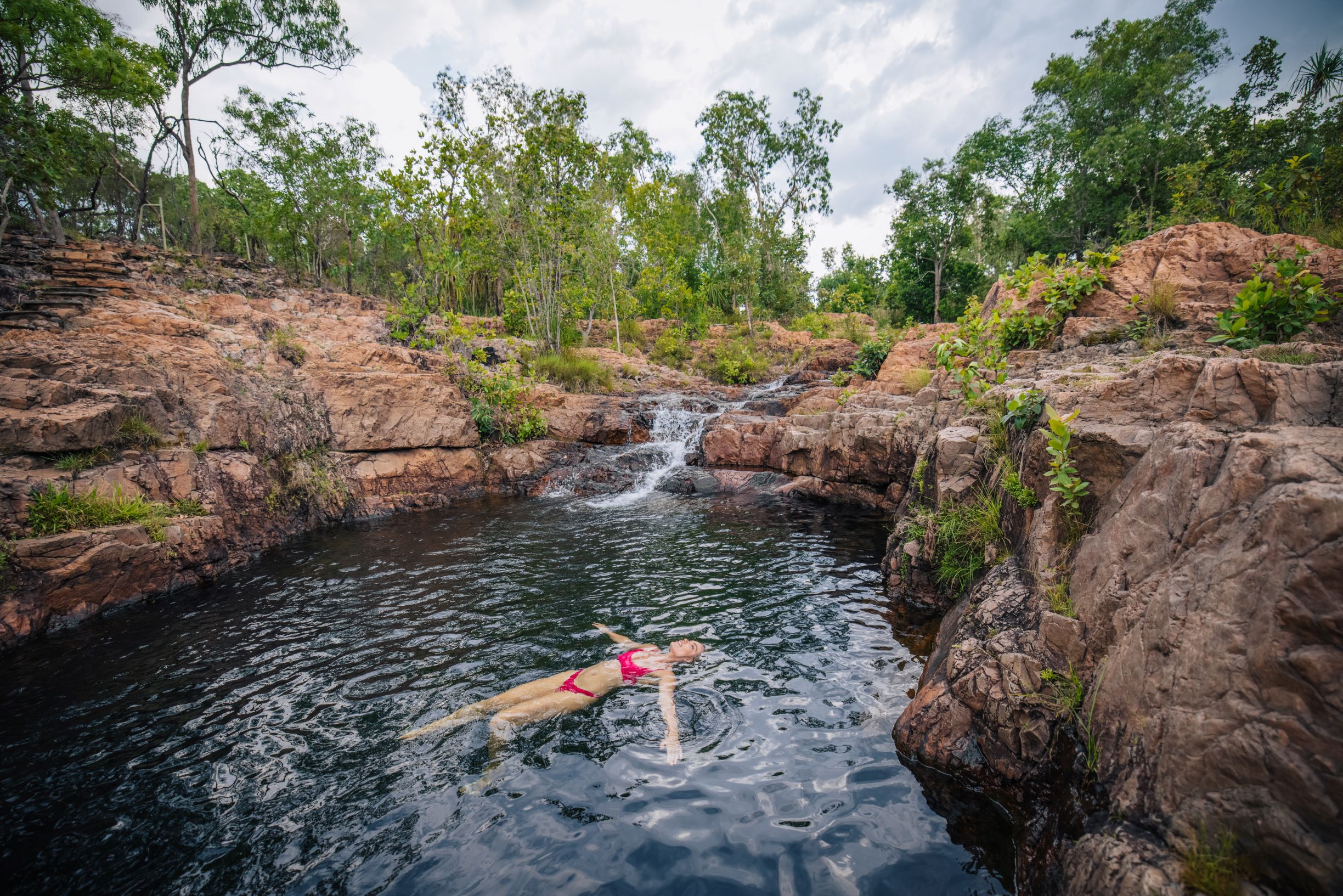 NEWS & NEW PRODUCTS FROM THE NT
With amazing weather, wide open spaces and exciting new experiences, the NT has everything travellers are looking for, and much more.
LATEST NEWS
NEW CROC-WATCHING PLATFORMS AT CAHILLS CROSSING
Kakadu National Park
One of Kakadu's most recognised sites, Cahills Crossing, is set to get two new viewing platforms, offering tourists a safe spot to catch a glimpse of crocodiles. Construction for the platforms is expected to take 12-16 weeks with completion anticipated by late 2021.
Read more
COUNTRY TO COUTURE
Virtual
One of the highlights of the Darwin Aboriginal Art Fair each year is Country to Couture – a celebration of Aboriginal and Torres Strait Islander textiles and fashion design. The high-energy runway showcase presents innovative collections from Indigenous designers and artists from across Australia, as well as unique collaborations between Indigenous communities and well-known Australian labels.
Read more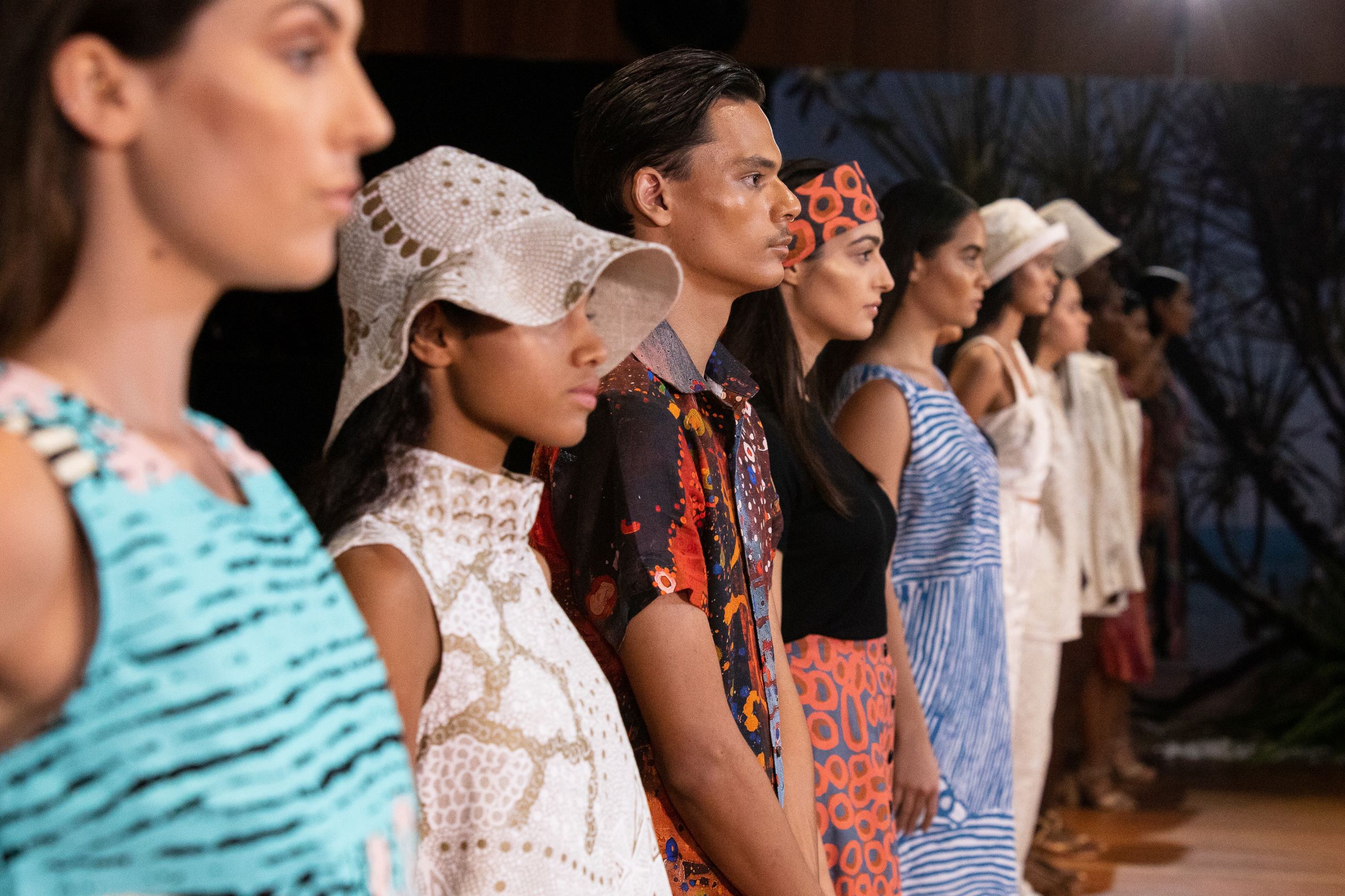 NEW PRODUCTS
FOOD & DRINK
WILLING DISTILLERY
Winnellie, Darwin
Willing Distillery is a new artisan distillery, cellar door and cocktail bar located in Darwin's industrial district. The latest distillery to open and one of the few in the Top End, Willing Distillery specialises in traditionally distilled craft spirits and uniquely Australian flavours, like desert lime. Willing Distillery prides itself as the first to use a traditional pot still, single shot distillation process for their gin – an ode to its passion for the craft!
Read more
MAYBERRY
Austin Lane, Darwin
Mayberry is the latest new bar set to join Darwin's growing food and drink precinct around Austin Lane, home to some of the city's best street art murals. The saloon-style venue hosts live music and offers an extensive range of beers, spirits and cocktails.
Read more
ACCOMMODATION
NEW UNDER-THE-STARS GLAMPING EXPERIENCE
Katherine
Katherine Outback Experience has unveiled a brand-new glamping experience. Guests can expect warm country hospitality with home-cooked meals and spacious bell tents decked out with luxury comforts, including a king bed. After a day of exploring Nitmiluk National Park or horse-riding on the farm, nights can be spent cosying around the communal campfire and outback stargazing.
Read more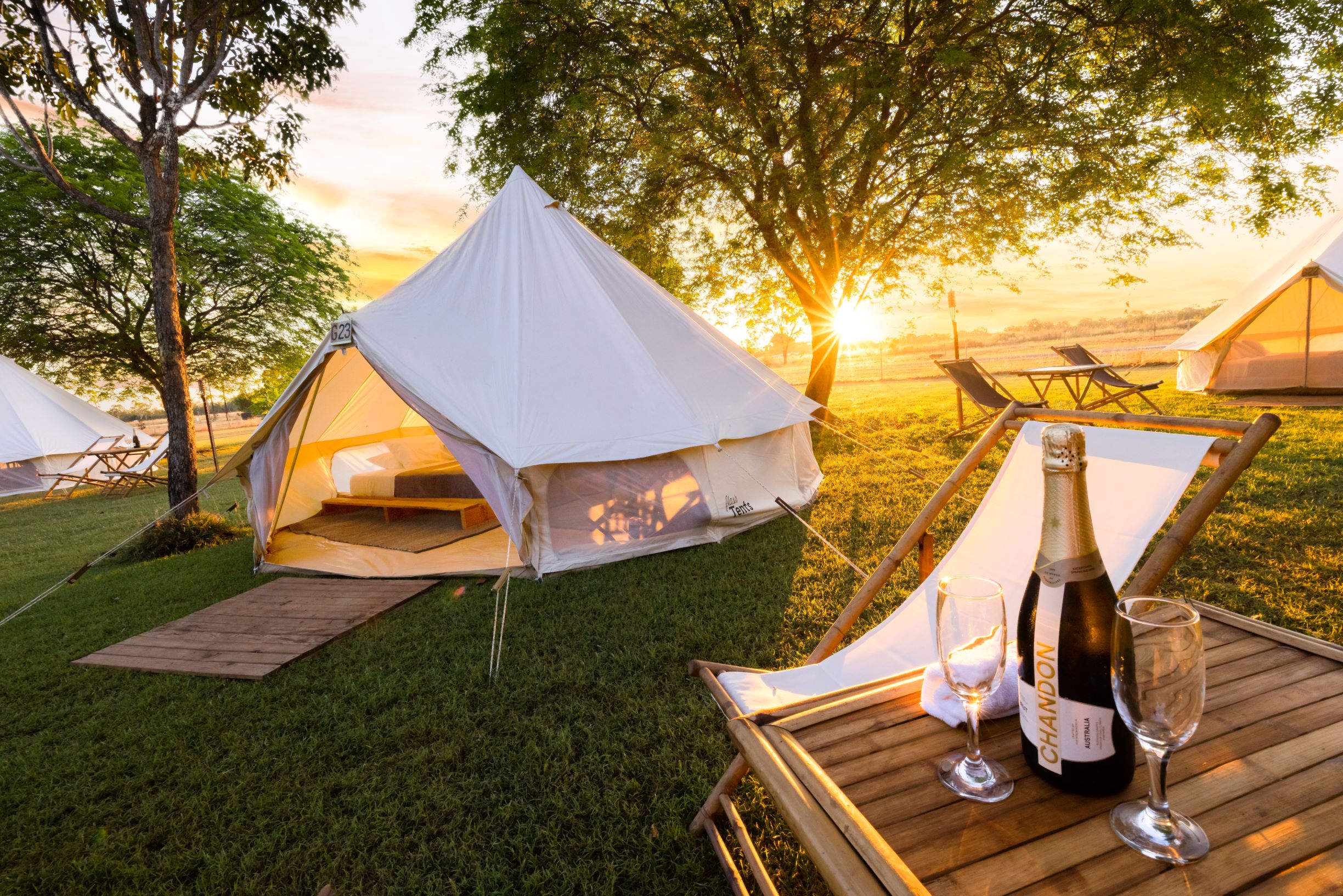 HIDEAWAY LITCHFIELD EXPANDS WITH NEW CABIN
Litchfield National Park
Due to its growing popularity, Hideaway Litchfield is expanding and building a third cabin. Nestled in the native bushland of Litchfield National Park, the luxury cabins, made from shipping containers, are off-grid and the perfect retreat when exploring the park's stunning waterfalls and waterholes. With room for three guests, the third cabin is open for bookings now.
Read more
LAKE BENNETT RESORT REOPENS
Darwin
After a three-year closure, beloved Darwin holiday spot Lake Bennett Resort has reopened. Under new management, the rural hotel has undergone extensive renovations, including upgrades to all 50 rooms. Perfect for a relaxed getaway, the retreat offers various activities, including canoe and kayak hire, mountain biking and trail walking.
Read More
NEW TROPICAL POOL VILLAS AT MERCURE AIRPORT RESORT
The recently completed villas offer a luxurious accommodation option for your next Darwin visit. Each room features a luxurious king bed, Nespresso coffee machine and a private verandah and plunge pool overlooking the Rapid Creek bushland.
Read more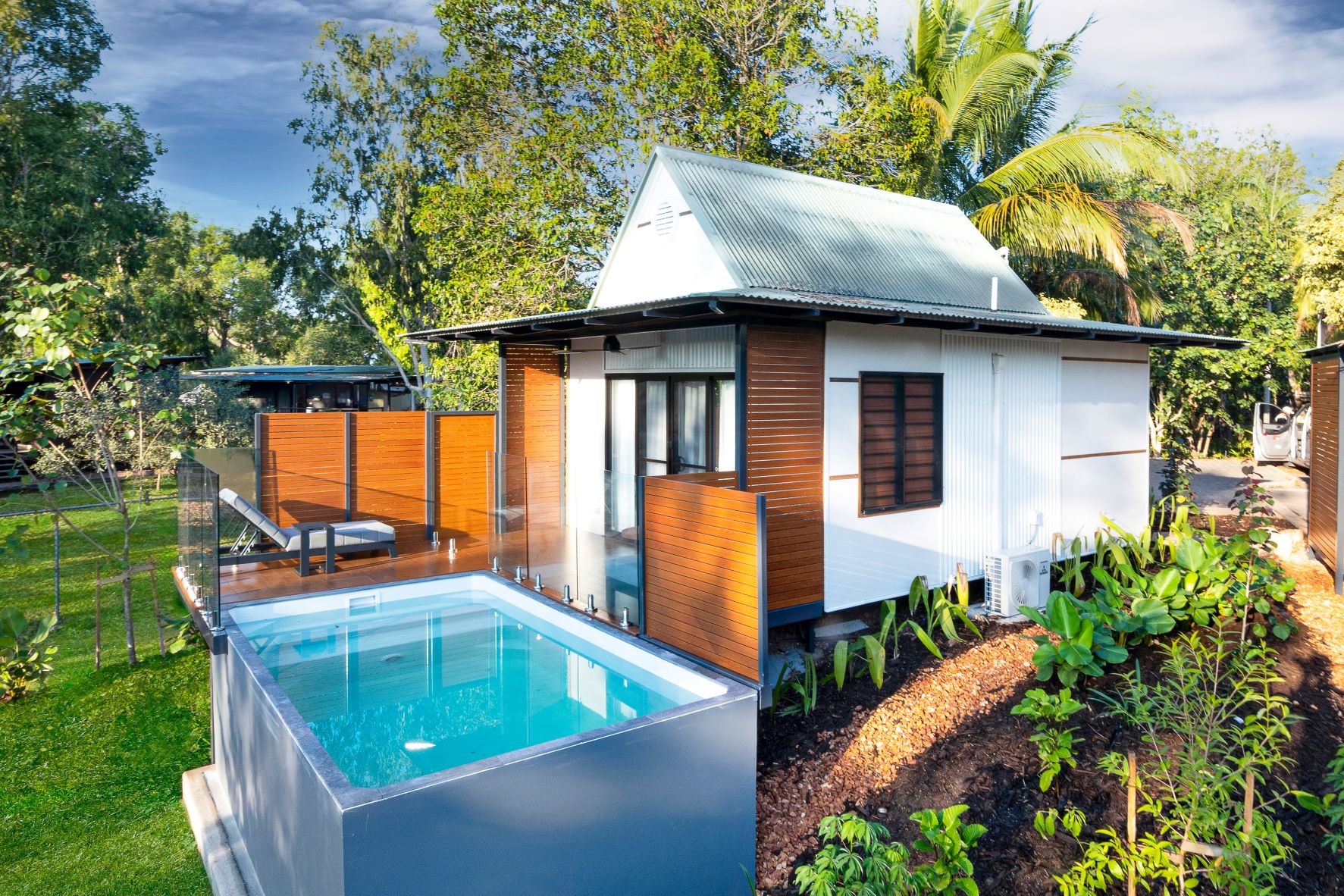 EXPERIENCES
CROCOSAURUS COVE LAUNCHES NEW WHIPRAY ENCOUNTER TOUR
Darwin
Crocosaurus Cove has launched a new interactive experience, Whipray Encounter, where guests can get up close and hand-feed friendly two-metre freshwater whiprays – a species of giant stingrays native to northern Australia. The guided tour is available once a day as part of their afternoon Fish Feeding Show, and up to four guests can enjoy the unique experience. Participants must be 10 years and older.
Read more
NEW FERRIS WHEEL IN DARWIN
Darwin, Stokes Hill Wharf
Stokes Hill Wharf has debuted a colourful 35-metre-high ferris wheel, giving visitors spectacular views of Darwin's waterfront and surrounds. Operated by Skyline Attractions, the family-friendly ride is open from 10am to 9:30pm and is available until October. The wheel, which can hold up to 144 people at one time, offers three stunning viewing experiences, from blue sky views to Darwin's famous sunset with a lit-up attraction at night.
Read more
NEW LUXURY TOUR EXPLORING THE TOP END, ARNHEM LAND AND WESSEL ISLANDS
Crooked Compass has announced two new luxury tours exploring the remote and picturesque regions of the NT.
East Arnhem Land and Wessel Islands
Guests will begin their adventures by flying from Darwin into Nyinyikay Homelands via charter plane. Upon arrival, guests will be immersed in Yolngu homeland culture, from spearfishing mud crabs to gathering bush medicine and weaving baskets. They'll then board an exclusive charter for a six-day voyage, stopping by incredible landscapes along the way. The tour is available for departure on 10 and 16 March 2022, and will host six to eight guests per trip. Prices start from $9,900 per person, twin share.
Read more
West Arnhem Land and Top End Safari
This six day itinerary will have guests exploring the untouched wilderness of Arnhem Land, the majestice Nitmiluk Gorge and Kakadu National Park. Guests will be immersed in one of the most culturally intact Aboriginal nations. The tour is available 25 May, 25 July and 27 August 2022. Prices start from $7,199 per person.
Read more
NEW DIRECT CHARTER FLIGHTS BETWEEN ALICE SPRINGS AND ULURU
Alice Springs and Uluru
Chartair
has announced a brand-new flight route between Alice Springs and Ayers Rock Airport, creating the only direct air route between these destinations. The new route, available twice weekly on Mondays and Fridays, will see travellers fly in a Cessna 402 aircraft, with a maximum of six passengers on board.
Read more
NEW DAY TOURS TO LITCHFIELD AND KAKADU
Litchfield and Kakadu National Parks, departing from Darwin
Small group adventure operator Autopia Tours has introduced affordable, family-friendly day tours to Litchfield and Kakadu National Parks, both departing from Darwin. For an optional extra, guests can experience a close wildlife encounter on-board a famous Jumping Crocodile Cruise or a visit to the wetlands of Fogg Dam Conservation, a bird-watchers paradise.
Read more
Autopia's Kakadu Wilderness Escape tour
explores the floodplains of Ubirr, home to ancient Indigenous rock art, with guided bushwalks, local knowledge and wildlife sightings. Tickets for adults are priced from $225, children are $150.
On their
Litchfield National Park tour
, travellers explore the park's century-old magnetic termite mounds and famous waterfalls and hidden plunge pools, including Florence Falls, Buley Rockhole and Wangi Falls. Tickets for adults cost $155 and children are $90.
NEW SMALL GROUP 4WD TOURS TO LITCHFIELD
Cyaround Australia Tours are now offering two small-group tours; the Litchfield Day Adventure and the Three Pub Safari Tour. The tours aim to experience and explore the pristine natural beauty and true-blue Australian culture of our much loved Northern Territory.
Read more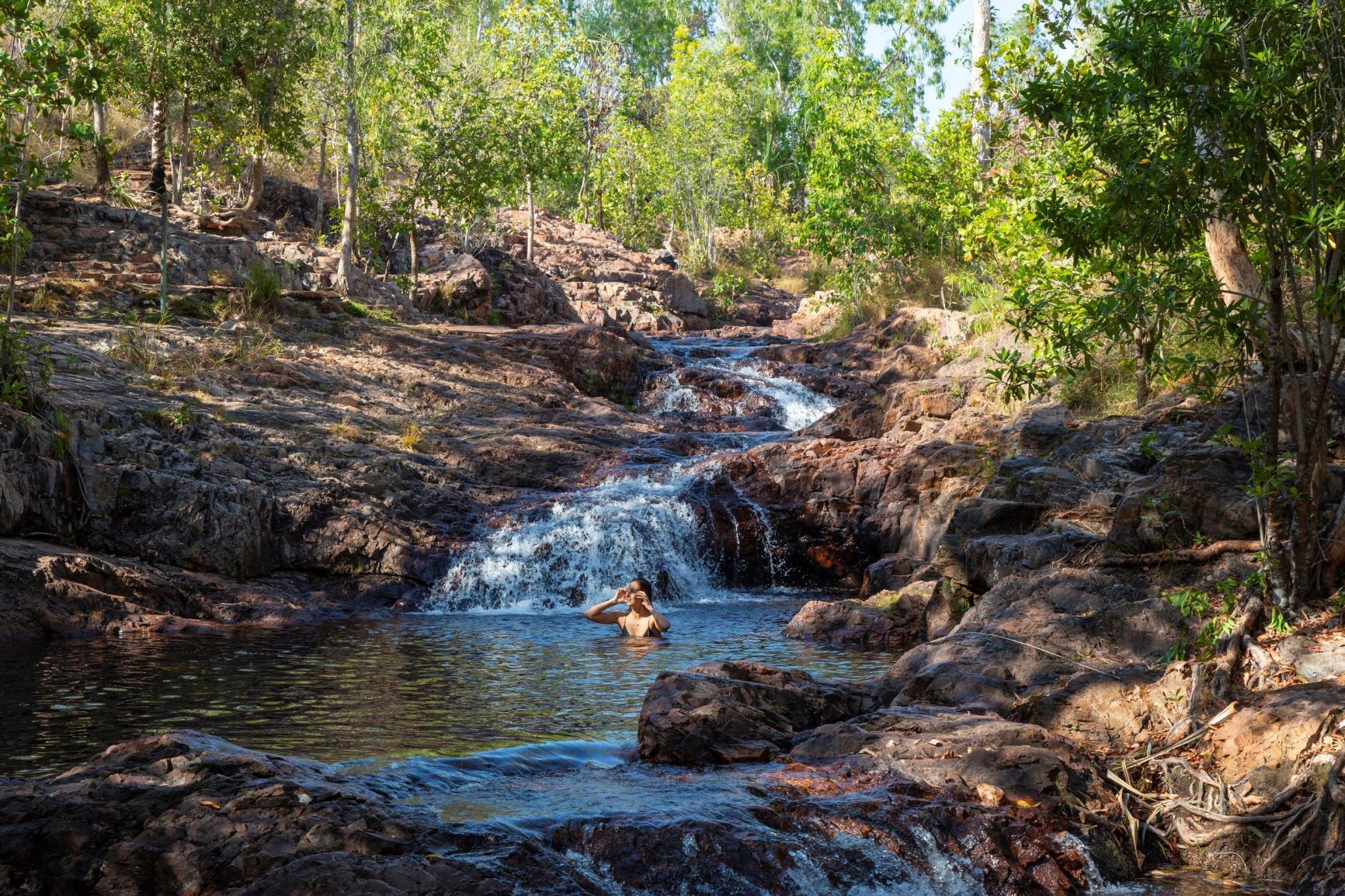 LIRRIWI TOURISM RELEASES ARNHEM LAND TOUR DATES FOR 2022
East Arnhem Land
Aboriginal cultural tour operator
Lirriwi Tourism
has announced new dates for its East Arnhem Land tours for its 2022 season, including their women-only Gay'Wu/Dilly Bag tour and five-day Crossing Country Tour. Lirriwi offers guests the opportunity to experience the Yolngu way of life and discover one of Australia's most pristine natural environments.
Read more
EVENTS
NATIONAL INDIGENOUS MUSIC AWARDS (NIMAs)
TBC Postponed
The NIMAs ceremony, held annually under the stars at Darwin's historic Amphitheatre and broadcasted by NITV, are recognised as one of Australia's most prominent celebrations of Indigenous music. Please note the rescheduled date to be announced shortly.
Read more
TELSTRA NATIONAL ABORIGINAL & TORRES STRAIT ISLANDER ART AWARDS (NATSIAAs)
Darwin, 7 August 2021 – 6 February 2022
Australia's longest running and most prestigious Indigenous art awards, the annual NATSIAAs showcase a range of work from emerging and established Indigenous artists from across the country. Following the announcement of award winners on 7 August, the exhibition is now showcased at the Museum and Art Gallery of the Northern Territory (MAGNT) until
February 2022.
Read more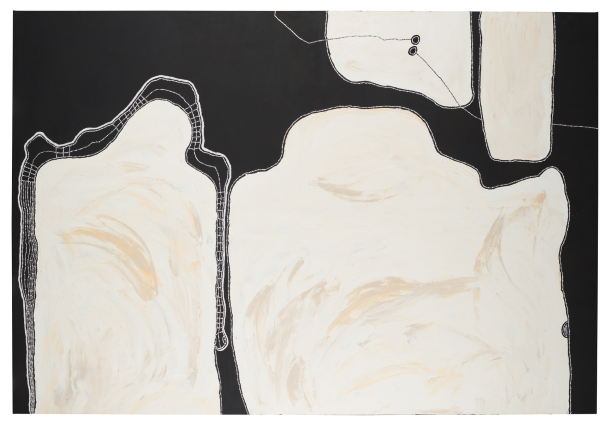 Timo Hogan's, Lake Baker 2020, Telstra Art Award winner
RED CENTRENATS
Alice Springs, 3-5 September 2021
The ultimate festival of wheels returns to the Red Centre. Over three action-packed days, the festival will showcase the best in street machines, elite show cars, hot rods, classics and exotic vehicles, with an entertainment program that includes street cruising and drag racing. For the first time ever, spectators will also witness a pair of car lovers, winners of the Red CentreNATS 'Win a Wedding' competition, tie the knot during the festival.
Read more
2021 DARWIN LIONS BEER CAN REGATTA
Darwin, 5 September 2021
Established in 1974, the iconic annual Darwin Lions Beer Can Regatta is a Top End family favourite. With boats constructed of everything from beer cans to plastic bottles and milk cartons, teams race along Mindil Beach into the water and hope their DIY dinghies make it to the finish line. The day also includes sandcastle competitions, races, competitions and fun team events.
Read more
KATHERINE BIRD FESTIVAL
Katherine, 12-15 September 2021
Katherine Bird Festival will return in 2021 and promises even more for wildlife lovers to enjoy. Set in the heart of Nitmiluk (Katherine) Gorge, this year's program will immerse visitors in natural landscapes teeming with unique birdlife, featuring bird-watching cruises, expert-led tours and family activities.
Read more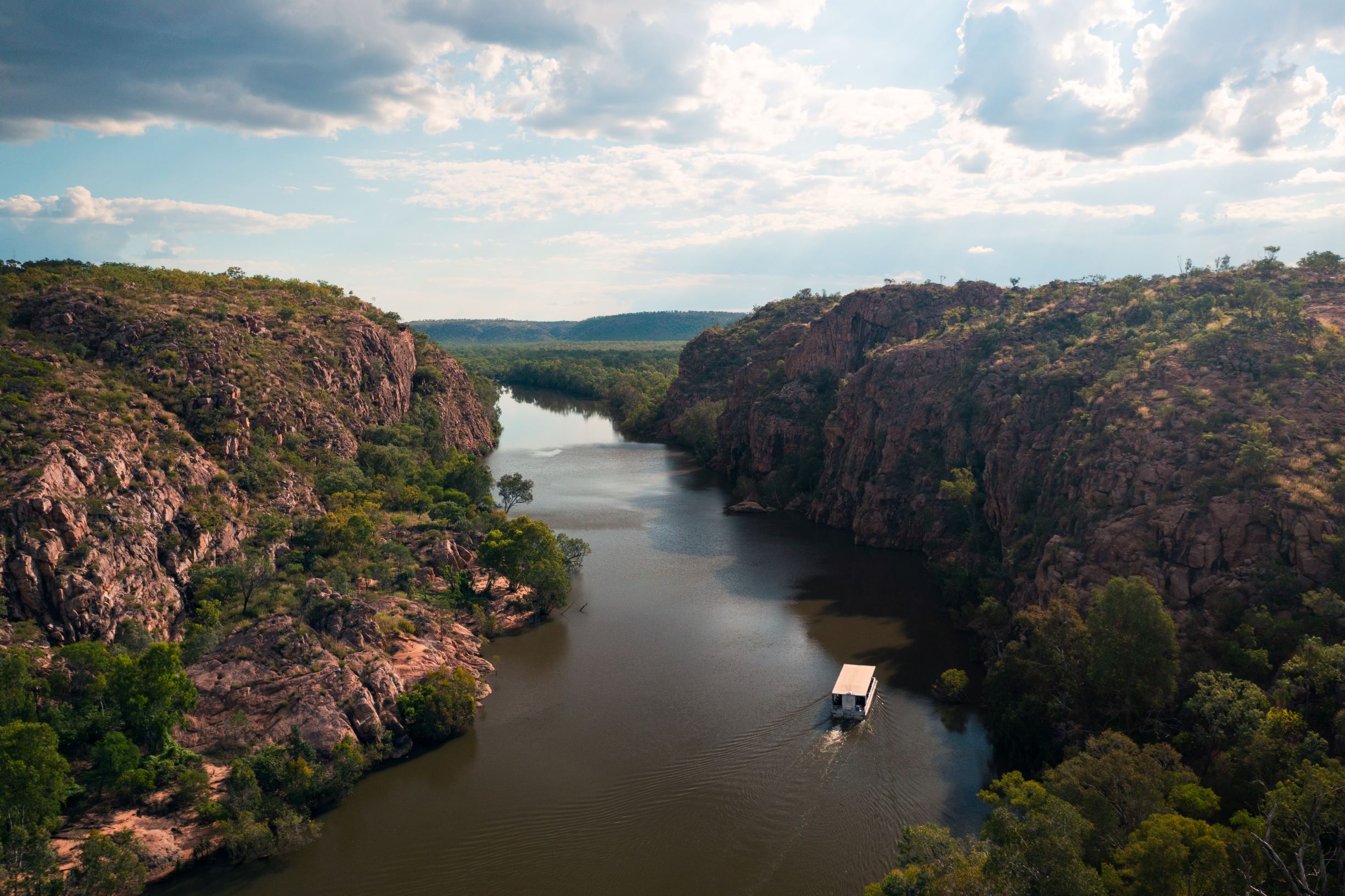 DESERT SONG FESTIVAL
Alice Springs, 10-19 September 2021
A celebration of cultural diversity and artistic brilliance, the 10-day Desert Song Festival highlights the rich musical traditions and culture of Alice Springs and Central Australia. This year's program will draw on the theme of 'sustainability through music and song. Headliners include a showcase performance by The Olive Pink Opera, and a fantastic musical collaboration, 'From the Desert to the Arafura Sea', featuring the Djari Project and the NIMA Award-winning Central Australian Aboriginal Women's Choir.
Read more
KAKADU BIRD WEEK
Kakadu, 25 September – 2 October 2021
With more than a third of Australia's bird species calling Kakadu home, the UNESCO World Heritage listed national park is a bird lover's paradise. Kakadu Bird Week features a packed itinerary for nature enthusiasts, including wetland cruises, bird watching expeditions, specialist lectures and Aboriginal bird experiences.
Read more